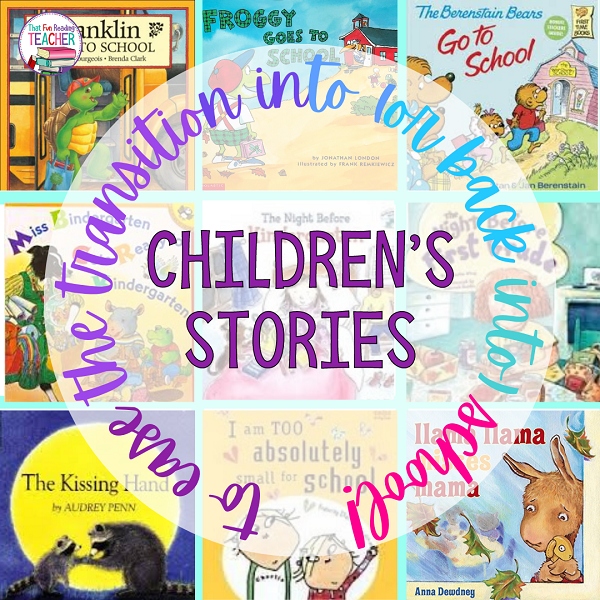 Looking for children's stories to ease the transition into or back to school? Here is a selection of the stories I return to year after year! Between familiar characters, fun, upbeat rhymes and the calming factor, they make a great mix.
(This post contains affiliate links. I am an Amazon Associate, and earn a small commission from qualifying purchases that help support this site. Please click here to read my disclosure policy.)
Familiar characters:
When choosing children's stories for my students, especially during times of transition, I like to include books with characters they are familiar with. Nearly every character on television has their own book series these days! Here are my personal favorite stories. I'd love to hear yours in the comments!
Franklin Goes to School: Franklin is up early preparing for his first day of school. He feels increasingly nervous between breakfast, the school talk on the bus, and arrival. This is a great story about an experience many of us share. Even in our common experiences, we often feel alone. Franklin and his friends are a wonderful example of a seemingly diverse group of friends realizing they are more the same than they are different. And they have each other.
In Froggy Goes to School, students enjoy experiencing Froggy's first day of school along with him. His teacher gently guides him through reading his name, paying attention, staying in his seat and taking turns speaking. This is a great storybook lesson for introducing classroom expectations to first timers!
The Berenstain Bears Go to School begins with Back-to-School shopping, and an encounter with Too-Tall and his gang leaving Sister Bear fearing the third grade. Momma Bear thinks a trip back through the photo album to when Sister Bear started kindergarten is in order, but she is still skeptical! A great story to encourage trying new things!
Rhyming Books:
Upbeat language and rhythm make these stories fun! My students request multiple readings!
They provide a humorous look at the preparation and jitters associated with starting school. With colorful pictures to draw kids in and laughter to ease tension, they are great picks for putting everyone at ease.
Great books for easing anxiety:
Years ago, there were only a few quality children's stories to truly ease the home to school transition. My top choice has never wavered! Now we are fortunate to have many encouraging, warm-fuzzy books for direct modelling of language and coping skills. Here are my thoughts on a few of them.
The Kissing Hand is a sweet story of a mother Raccoon reassuring her son, Chester, that he will not be lonely at school by sharing the secret of 'the kissing hand'. This is hands-down my favorite story to read and reference when I have students longing for home, and the reason I created this freebie to accompany it!
Older sibling wisdom gives I Am Too Absolutely Small for School its authenticity, while Llama Llama Misses Mama offers the reassurance that parents do return at the end of the day to pick up their children.
I would love to hear your favorites in the comments, as I know other educators would as well!
Best wishes to you and yours for BTS this year. I suspect it may be an exceptional return for many as we attempt to return to normalcy. Put on your own oxygen masks first. The learning will happen. These little people need to feel safe, cared for and be excited about going to school again. Don't we all? Storytime is sacred.
Take care of yourselves,

Do you have some favorite stories to recommend? Please share in the comments!
Related: