Looking for books to prepare kids for Fire Drills?
Stories are a great tool for preparing children for upcoming experiences. Reading about relatable characters starting school, or managing emotions, for example, allows kids a few risk-free 'practice-runs' in someone else's life and body before having to try doing it themselves! Best of all, they provide a context for natural conversations to happen.
Many of us who teach special education make use of social stories to help ease transitions for our students who have difficulties with changes in routine, high anxiety and students with autism.
Having taught many years of kindergarten and special education to young students, I have found that Fire Drills can cause a great deal of anxiety to those who do not know what to expect, or who struggle with a change in routine. Here are books I return to year after year that help prepare kids for Fire Drills.
Stories to prepare kids for Fire Drills
The following are great examples of great picture books with relatable characters for preparing kids for Fire Drills, that you may have right in your school library!
Dinofours: It's Fire Drill Day! by Steve Metzer, illustrated by Hans Wilhelm
Albert is afraid of loud noises and his teacher, Mrs. Dee, explains why the fire bell is so loud, helping Albert get over his fear of its loud noise. Fire safety tips are also included in this book.
Miss Mingo and the Fire Drill by Jamie Harper
Miss Mingo and FireChief Grizzly teach all of the animals in the class what to do in a fire drill. Even though they were all afraid of danger at the beginning, after they practiced, the animals had excellent results!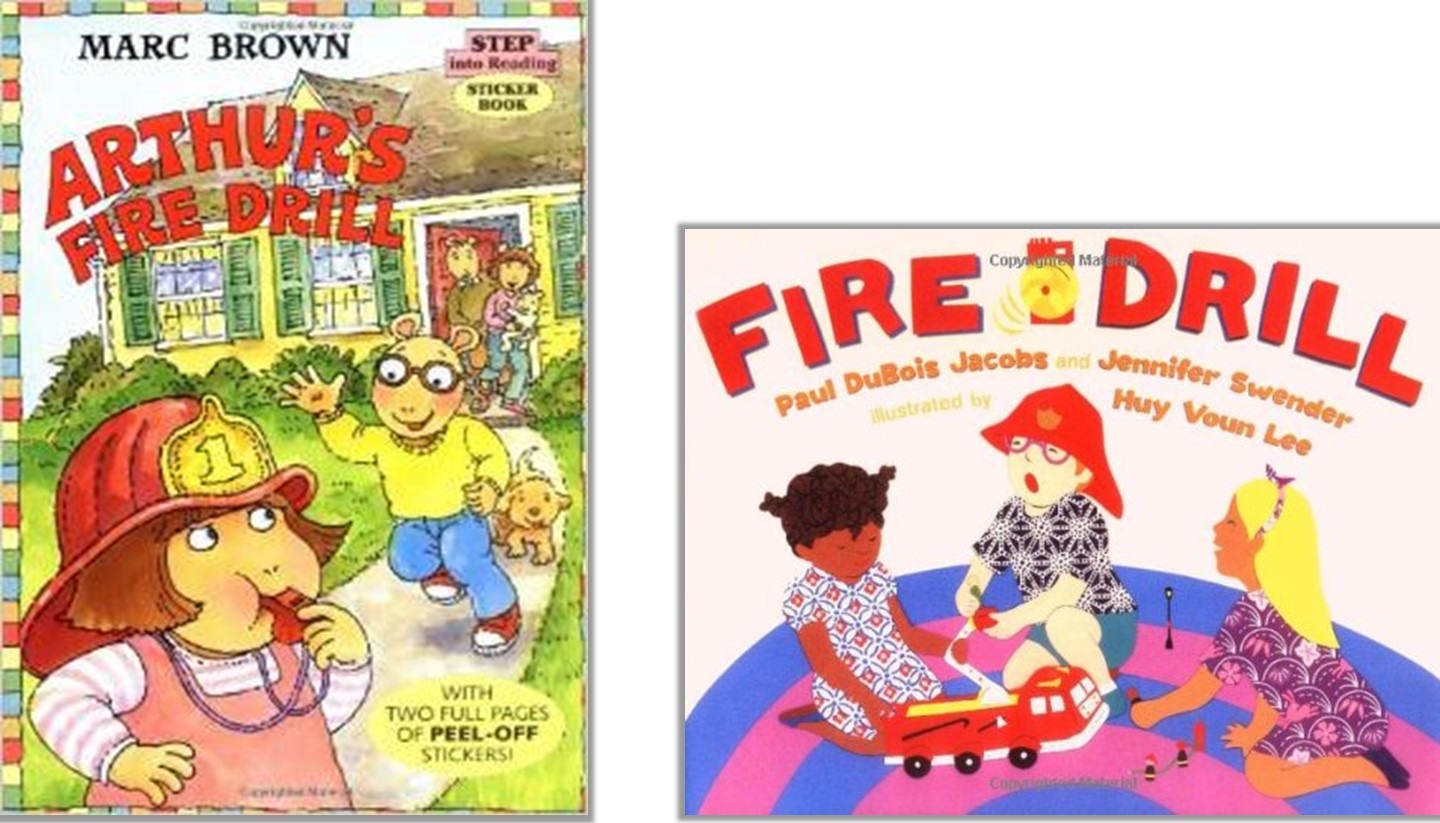 Arthur's Fire Drill by Marc Brown
D.W.'s is worried the school is going to burn down after her teacher announces an upcoming fire drill!  Arthur gives her advice on fire safety, and his fire hat and whistle, and puts her in charge of fire safety at home to make her feel better. Naturally, she extends this to school…she's D.W!
Fire Drill! by Paul DeBois Jacobs and Jennifer Swender, illustrated by Huy Vours Lee
The kindergarten students know exactly what to do it's fire drill time! Told in rhyme, this bright and simple story walks young children through all the steps of a fire drill. Fire Drill is a 2011 Bank Street – Best Children's Book of the Year.
Best wishes for fire drill practice everyone!  Being calm, practicing and listening to your teacher is the best preparation of all!
What books do you use to prepare kids for Fire Drills? Please list recommendations in the comments!

I am an Amazon affiliate and have included links below for those would like to purchase these or any related titles. I also included a couple of titles related to the pandemic. Please read my disclosure policy here. 
Related freebie:
Best wishes, my friends. Stay safe and well.