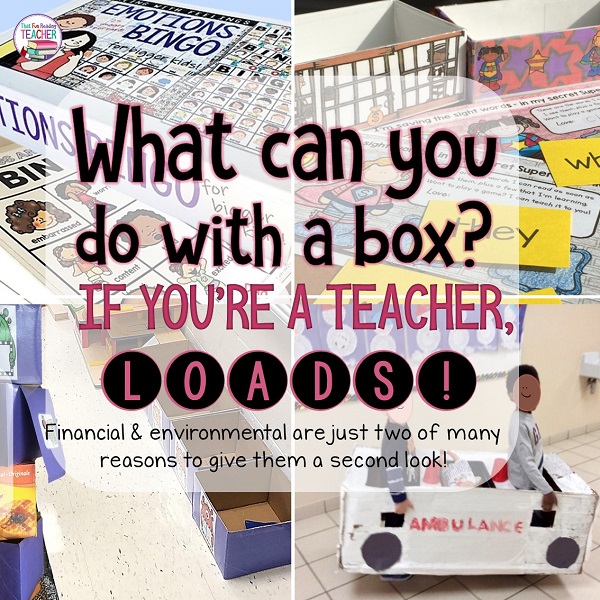 There are so many fun ways to reuse cardboard boxes in the classroom, that I have developed a tendency towards hoarding them!  Family and friends know to save iPhone and iPad boxes for me.  Each day, it seems, I grow even more fond of boxes over plastic bins for many purposes. Bins can be hard to separate, become brittle and crack, resulting in sharp edges and cuts.
I am making less trips to the dollar store to replace plastic bins this year, spending less, and feel good about reusing boxes that can later be recycled.
My favorite reusable boxes:
smartphone (You will see iPhone boxes used in a number of photos throughout the post)
tablets (I covet iPad boxes because they are the perfect size for the BINGO games I make, are super sturdy, and look nice and tidy stacked together on the shelf)
large, strong Eggo waffle boxes (great seasonal book organizers)
good quality boxes from electronics or greeting card sets that have attached lids or doors
cube shaped courier or cup / mug boxes
empty tissue boxes (more on this coming – just buy same design in bulk when on sale, trust me!)
giant boxes for dramatic play
shoeboxes for student creations, dramatic play
small clementine crates (I know, they're wood, but thought worth mentioning here) for Nativity scene stable
Here's a timesaver to help you get started on box collection:
Smart phone boxes:
Are you a fan of learning through play? Do you believe that some things just have to be memorized? Smart phone boxes have the potential for so much fun in the classroom! Think of the vehicles and habitats that can be created, for example!
I use iPhone boxes for putting a fun and playful spin on my pile / your pile card games to motivate kids. I have always used my tried and true theme of wanting to fill up my dungeon (iPhone box) with sight words, but this can be applied far beyond that! There is a video of this game in action on this product preview on TpT.  My kindies love it, because I always ensure that they have just the right collection of cards in their themed envelopes (that they have chosen, and match other iPhone box covers) to be challenged, but still win. I also tell them that there is no need to practice at home, because I really need to fill my dungeon.
Needless to say, they get pretty excited about it, and do practice at home!
This is just one way to use smart phone boxes. Imagine all the other possibilities!
Tablet boxes:
Is there a better made, more useful, disposable box than the iPad box? Consider the size, sturdiness, and nearly blank canvas of it. These boxes stack well and are forgiving when I need to adjust something I have taped onto their smooth surfaces. Informal research on kindergarten and primary teachers indicates that the iPad box is the clear winner in the small box category!
Tip for a polished look: laminate what you're placing on your box, and place with double-sided tape. Seal edges with quality, clear packing tape!
I have used iPad boxes for BINGO games so far, but they are also great for storing papers. They looked so nice that when I made my two feelings BINGO games, I made cover art for the iPad boxes and included it right in with the games as part of the product:
Miscellaneous boxes:
I, like many teachers, frequent the Dollar Store and own my fair share of plastic bins, buckets and organizers. I was so disappointed last year when I took out the buckets for my sorting games, struggled to separate them, then realized they had cracked! They were brittle and unusable.
Here is the solution I was, and still am, very happy with:
Do you ever buy boxes of greeting cards for all occasions? I have bought a few over the years. I kept the boxes, even after the cards ran out. Here's why:
What other fun ways do you use boxes in the classroom? If you're like me, you are likely a Bankers Box and tissue box fan, too because you find organizing fun! A conversation for another day…
Be well, my friends.